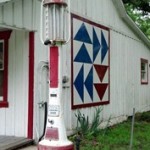 Our group of volunteers share a vision of expanding local tourism, sharing our heritage, and educating the public and celebrating our farms, barns, & quilting culture in our beautiful Appalachian mountains.
We're the first county in Maryland to have a Barn Quilt Trail!
Use the links above and to the right to browse through our barn quilts, learn more about our farms and barns (and farm families) and learn why certain quilt designs and colors were chosen.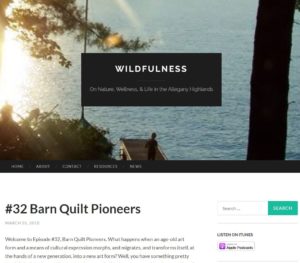 Barn Quilt Pioneers Podcast Available!
Want to learn more about our quilting heritage and history?  Listen to an amazing podcast, Barn Quilt Pioneers, by Wildfulness.
Also available on Stitcher and iTunes.
Project History
Donna Sue Groves, a native Appalachian, purchased an old farm in Ohio that included an old  tobacco barn.  To honor her mother, an avid quilter, Donna Sue came up with the idea to have a quilt block painted on the old structure.
Barn Quilts began from this idea in Adams County, Ohio.  The Quilt Trail movement has spread to at least 30 states and two Canadian provinces!
After a couple years of admiring barn quilts across the nation, a group of four women got together to discuss how to make barn quilts a reality in Garrett County,
Maryland.  In December 2007, the group first met to brainstorm, then organize their ideas.
By February 2008, the whole community was represented in the effort.
Click the "Get Involved" link to find out how you can participate in this exciting program!
The Barn Quilt Association of Garrett County, Inc. is a 501(c)(3) nonprofit run completely by volunteers with additional support from the Garrett County Arts Council, Maryland Heritage Areas Authority, and Tucker Community Foundation as well as the generous donations of private individuals.
---
Select barn quilts made possible in part by: