Mission
The mission of the Barn Quilt Association of Garrett County is to provide a sustainable heritage tourism attraction/activity while preserving and celebrating the unique agriculture, history, and arts culture of our area  through visual combinations of barns and quilt designs, to educate the public and showcase our Appalachian tradition.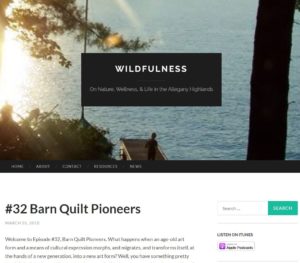 Barn Quilt Pioneers Podcast Available!
Want to learn more about our quilting heritage and history?  Listen to an amazing podcast, Barn Quilt Pioneers, by Wildfulness.
Also available on Stitcher and iTunes.
Impact & Importance
This project speaks to issues vital to the economy of Garrett County:
Add value for tourism
Preserve agricultural history
Preserve cultural history
Increase traffic to local businesses
Involve every type of group in the county into one activity
As stewards for the original quilt barn concept, the organization dedicates itself to being connected:
Like individual squares sewn together
       to form a quilt,  To each other,
          To our collective history,
                   To our quilts,
          To our rural landscape,
     To the people, places, stories and patterns
that make it possible,
        Now and forever more
This project will bring together many factions in a program that reflects the heritage, culture, and traditions of Garrett County.
Next Steps
Our goal is to have hang more barn quilts each year. To meet this goal, we need to find volunteers and raise funds to purchase paint and materials needed.  We estimate each barn quilt will cost around $400 in cash, plus volunteer labor and equipment.
Project History
Donna Sue Groves, a native Appalachian, purchased an old farm that included an old tobacco barn.  To honor her mother, an avid quilter, Donna Sue came up with the idea to have a quilt block painted on the old structure.  Barn Quilts began from this idea in Adams County, Ohio.  The Quilt Trail movement has spread to at least 30 states and two Canadian provinces!
Karen Reckner first discovered barn quilts during a trip to Ohio.  After a couple years of admiring barn quilts across the nation, a group of four women got together to make barn quilts a reality in Garrett County, Maryland.  In December 2007, the group met to organize their ideas.  By February 2008, the whole community was represented in the effort.
The Barn Quilt Association of Garrett County achieved IRS non profit status as a 501(c)(3) organization in 2010.  In 2010, we held our first ever Barn Quilt Festival – a resounding success!
Where are we?
We're located in extreme Western Maryland, high in the Appalachian mountains.  Rural Garrett County is home to Deep Creek Lake, the Wisp Resort,  Adventure Sports Center International, many outdoor activities such as fishing, hiking, biking, horseback riding, boating, whitewater rafting, and more.  Our eight small towns have lots of  opportunities for shopping, antiquing, or grabbing a lunch at a unique restaurant.  Go to www.VisitDeepCreek.com to learn more about our beautiful county.