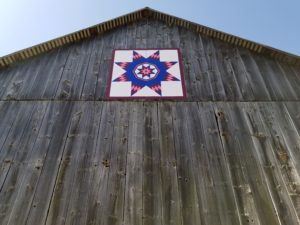 Dick and Dorothy Bernard are the owners of this beautiful historic barn. The barn was built in the late 1800's – early 1900's. Dick and Dorothy purchased the barn in 1980.
The quilt block displayed on the Bernard barn is dedicated to Emerson T. and Betty L. Frazee in celebration of their 65th wedding anniversary. The Maryland star quilt pattern is distinguishable because of the small star pattern within the large star which makes up the central motif of the quilt.
Th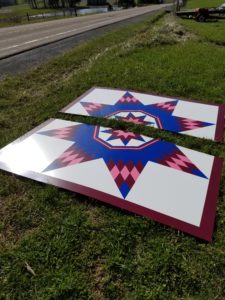 e pattern is a favorite quilt design for Emerson and Betty. The colors were picked to match the first Maryland star quilt that they discovered. The barn quilt symbolizes their everlasting love for each other, and their admiration for the great state of Maryland.
The quilt is sponsored by Diana and Clarence Lyons, Jr.
Location:
From Rt. 495 at the Glendale Road Intersection, travel south on 495 for 1/3 mile.  The barn quilt is on the right.
Address:
5315 Bittinger Road
Swanton, MD  21561
GPS:
39.525795, -79.240711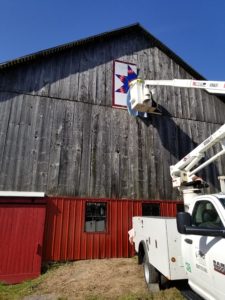 ---
This barn quilt made possible in part by: